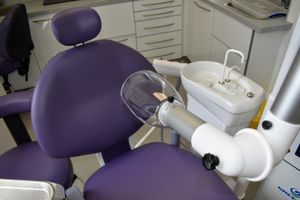 Dr Riley has made major investment in ensuring that dental visits are as safe as possible. 
Prior to the Covid 19 Pandemic, we operated to the strictest decontamination and hygiene protocols and had recently upgraded our facilities to include fully compliant and modern sterilisation facilities. We also operated and still operate medical grade air purifiers in our surgeries. 
With the devastating national effects Covid 19 Pandemic, we have explored ways of making our dental practice even safer for patients and all our team members. Central to this is a detailed programme of screening, staff training and changes in our way of working to limit the number of people in the practice at any given time. 
We are happy to announce that we have invested in 2 Extra-Oral suction units, making us one of the first dentists in the nation offering treatment with these innovative devices. These units allow us to better protect our team members from the risks of airborne disease such as COVID-19 
These Extra-Oral Suction Units combined our existing high volume evacuation (HVE) system remove as high as 99.9% of aerosolized droplets of saliva, blood and other fluids, which escape from a patient's mouth during a routine dental treatment. 
Here is how the Extra-Oral Suction Device works: 
During treatment, dentists and hygienists utilize ultrasonic scalers, air syringes, high and low speed hand-pieces – all of which generate varying  amounts of water and mist, which combined with saliva, and occasionally blood produce aerosols and splatter. 
The extra-oral suction, which resembles the end of a vacuum cleaner with a clear funnel shaped attachment positioned just outside the mouth, removes these aerosols to prevent them passing between doctors and patients. 
With strong suction vacuum pressure and high air suction flow rate, the aerosol droplets between the clinicians and the patient is sucked into the machine through the adjustable positioning arm. 
The aerosol is then decontaminated as it goes through a four-stage filtration and disinfection process. 
Having the extra-oral suction unit in place keeps dental appointments efficient, and significantly lowers the risk of splatter and will allow the dental hygienist to use the ultrasonic scaler in addition to hand scaling.